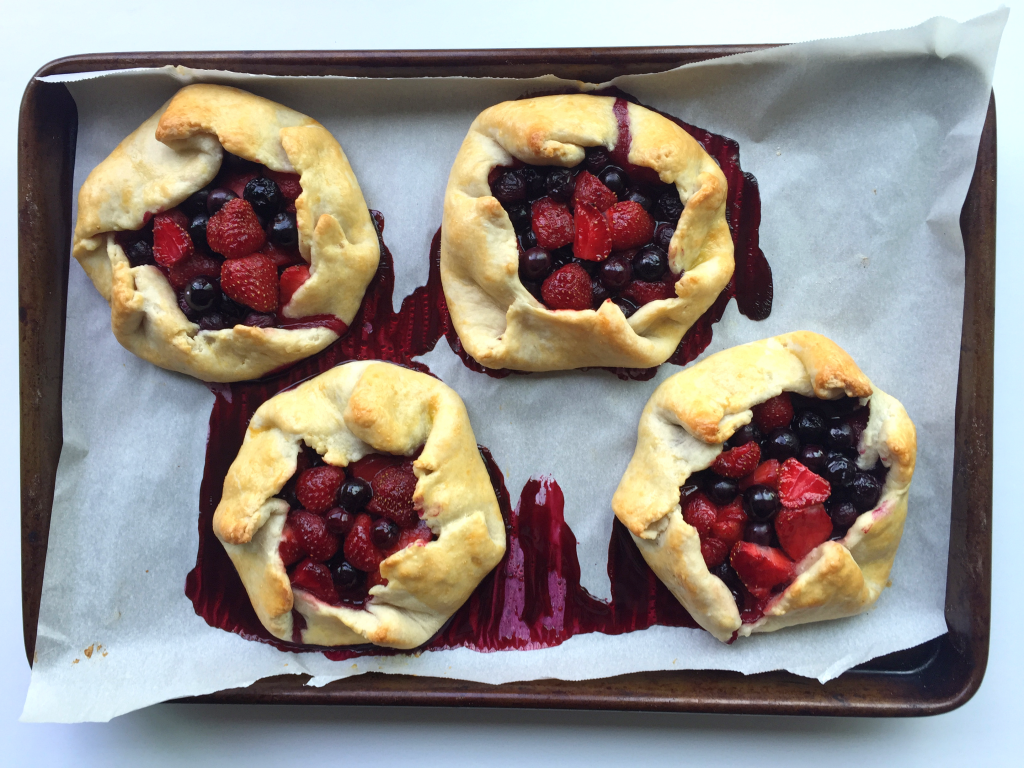 Welcome to Peach and the Cobbler! And thanks so much for stopping by!
Peach and the Cobbler is something that I've been thinking about for awhile, as cooking REAL, simple, dairy free food is a huge passion/hobby/love of mine.
Earlier this year, my "professional taste tester" (my boyfriend) and I were dreaming of all the things that we want in life, and we got to talking about my love of simple food and how amazing it would be if I had a place to share all my favorite recipes.
A couple months later, Peach and the Cobbler was born. All the recipes that I plan to post on this site will showcase REAL food that is simple to make, and dairy free. I've had a dairy sensitivity for years, and since then, I've been on a mission to prove to myself (and now my readers) that food can be just as good or even better without dairy.
With that said, onto the tarts!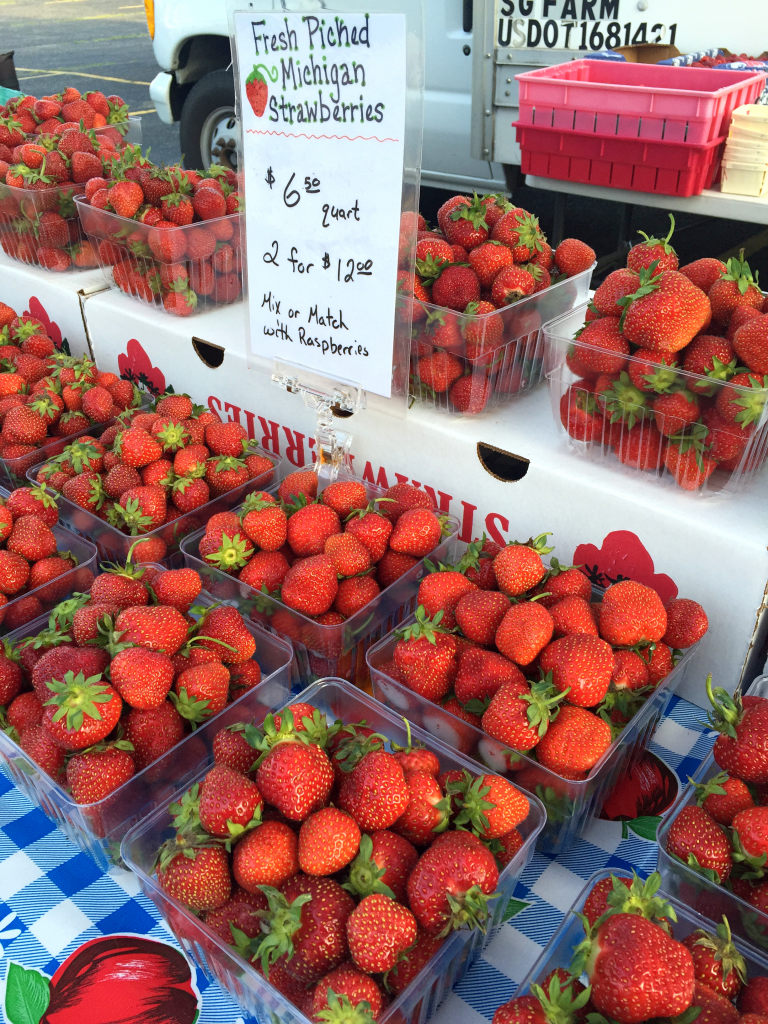 Having lived in Chicago for over two years now, I have reluctantly accepted the fact that mediocre (at best) grocery store produce is really my only option for the majority of the year.
*Sigh
However, for a few short, sweet months during the summer, farmers markets pop up all over the city that are brimming with the freshest most vibrant fruits and veggies, giving hope to all of us city-dwellers that there's more to life than just grocery store produce!
And thankfully, one of the first things to appear are strawberries and blueberries.
YUM.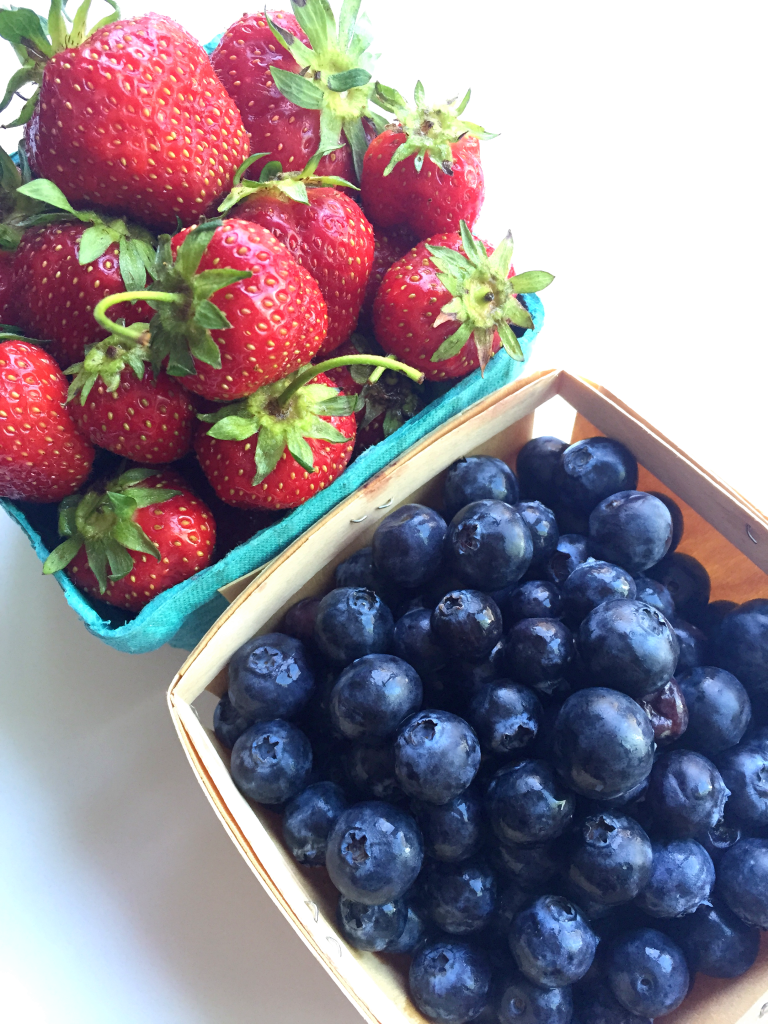 I don't know about you, but whenever I'm able to get my hands on fresh berries, I immediately want to bake something with them. Blame it on my sweet tooth, or my summers spent as a pastry chef, but I can't seem to control myself when it comes to fresh fruit.
And this recipe is no exception. I came home from the farmers market with perfectly ripe strawberries and blueberries in tow, and knew they would be the ideal companions for rustic tarts.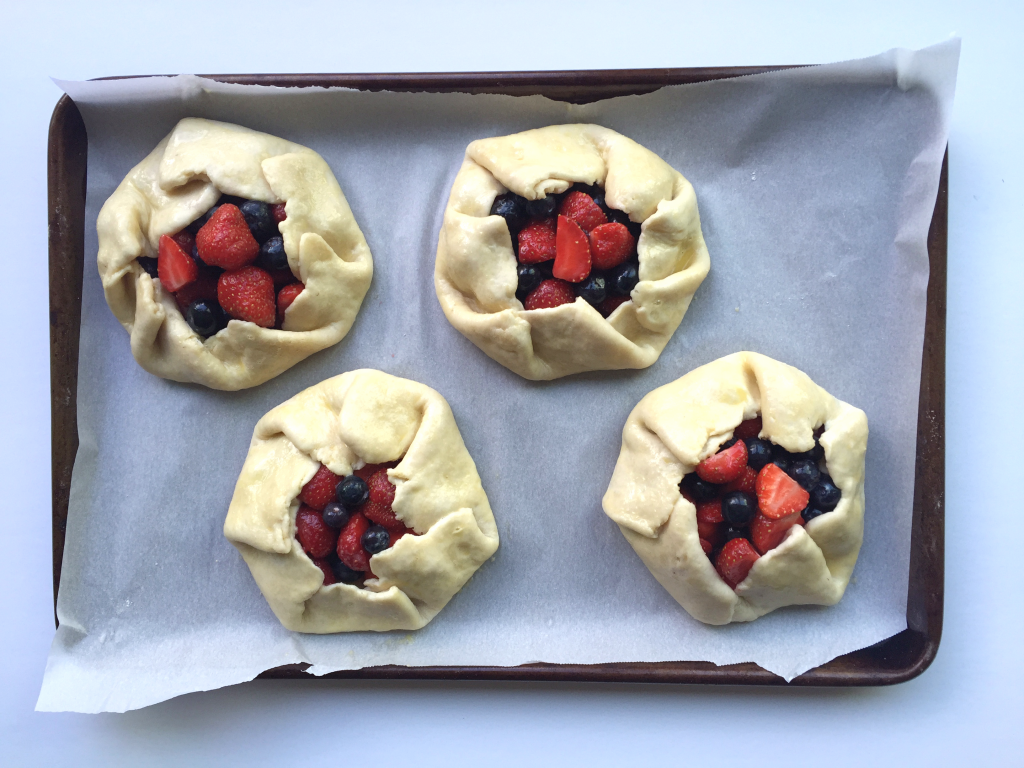 If you haven't made rustic tarts before, they are basically like mini pies that feature an extremely forgiving dough that makes it a bit easier to handle than your typical pie dough. And a forgiving dough = less fuss = less time in the kitchen = more time eating tarts!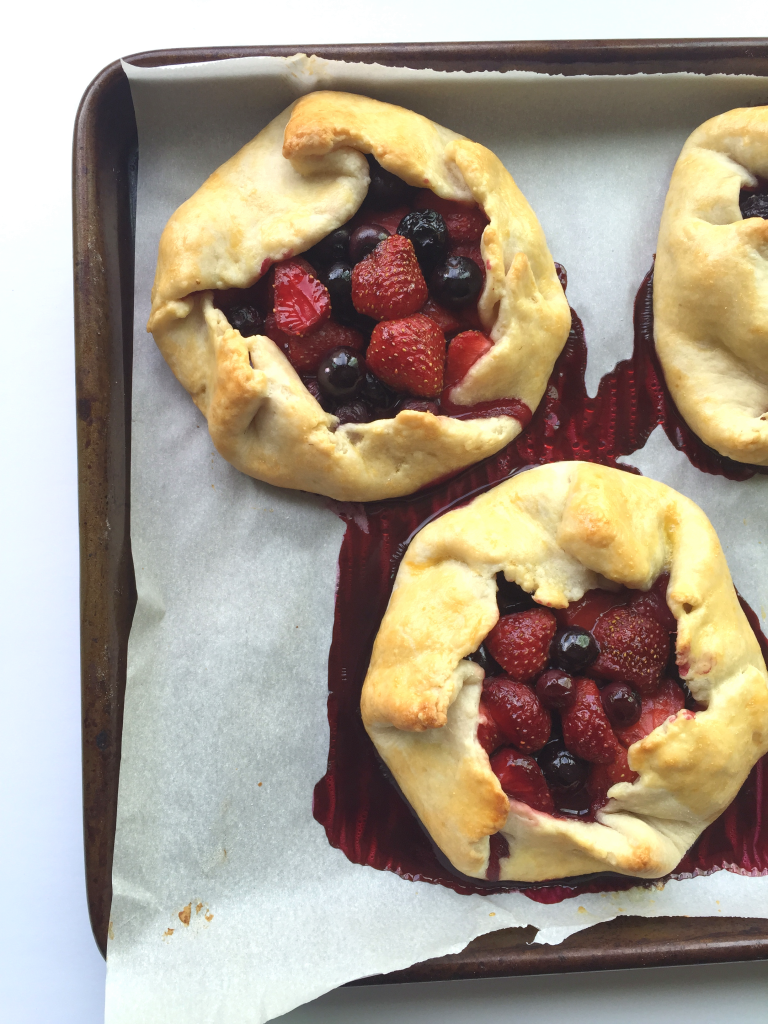 When these tarts come out of the oven, the tops should be golden brown, and the fruit should be bubbly.
You'll notice that these tarts are basically swimming in berry juice. This is a VERY, VERY good thing. In fact, that is the way that I typically know when these are done! And that's also when I know I've made a good tart, or any pie for that matter.
The juicier the better I say!
Or something like that.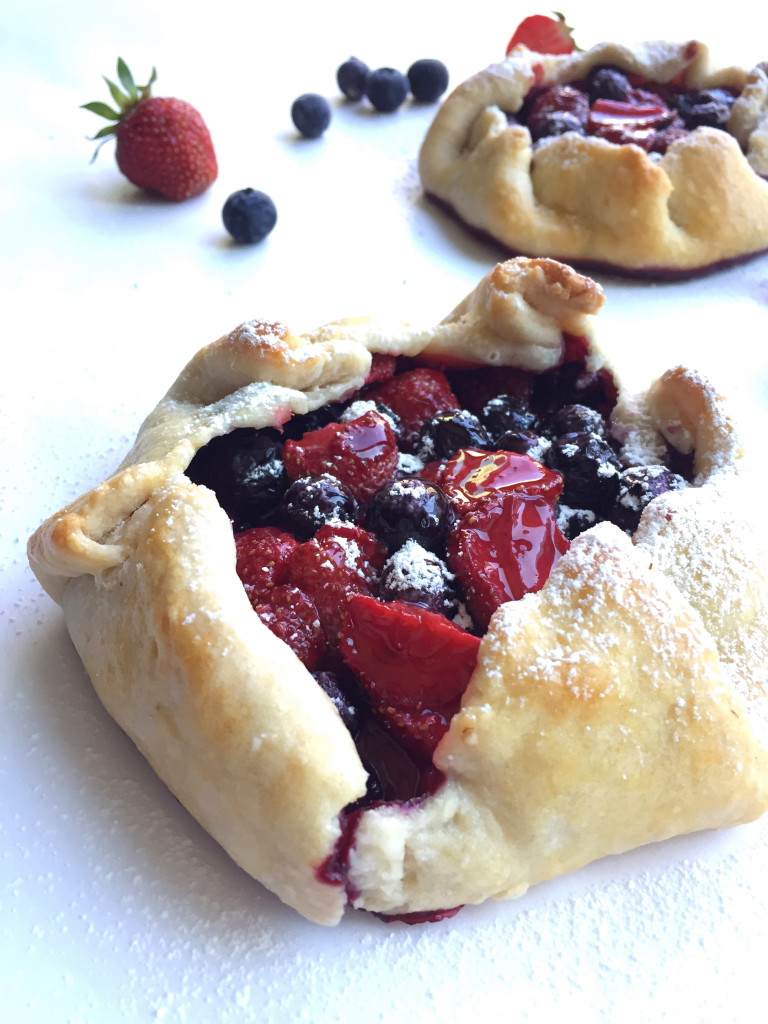 These little beauties are delicious on their own, but to kick them up a notch, I like to serve them either dusted with powdered sugar OR with a large scoop of coconut milk vanilla ice cream.
I topped mine with a no-churn coconut milk vanilla ice cream that I've been perfecting, but it's not quite ready to share just yet, so keep your eyes peeled as I'll be sharing that very soon!
The warmth from the tart will slowly melt the ice cream and will make you think you've died and gone to tart heaven.
What's so great about this recipe is that you can make the dough ahead of time and then bake off the tarts when you need them.
They are also naturally patriotic, featuring colors of red, white, and blue, so take these to any 4th of July celebrations/parties/BBQ's you have and let me know how it goes!
Be sure to check back, as I'll be sharing more amazingly simple, delicious recipes very soon!
Love,
Peach and the Cobbler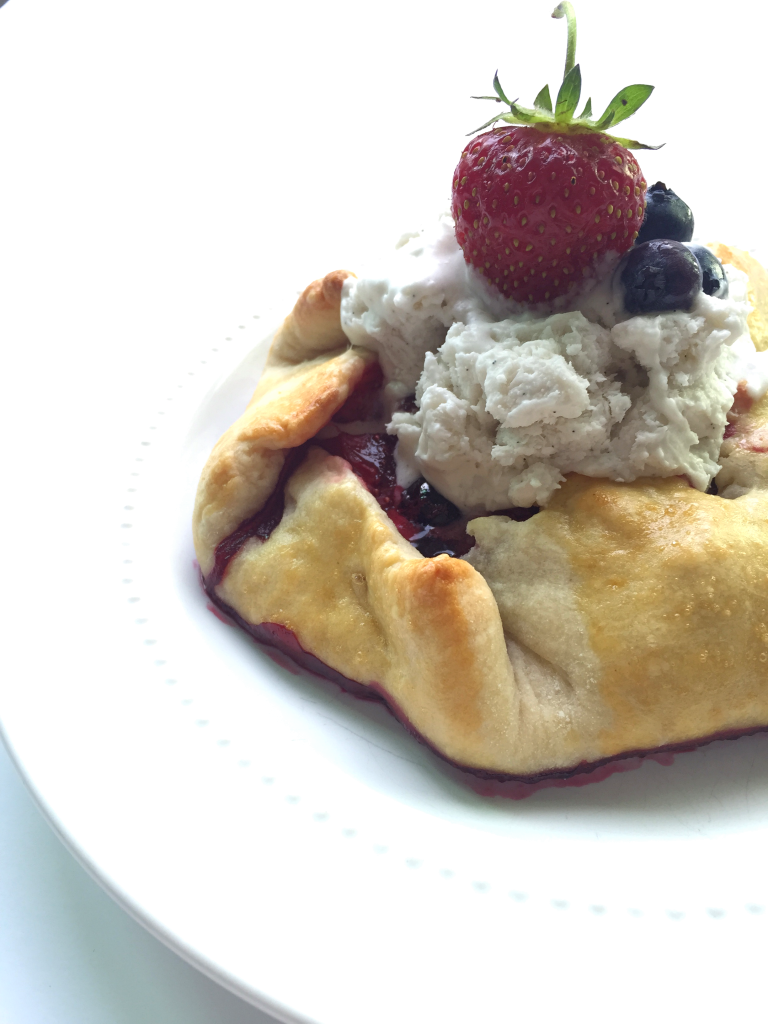 Strawberry Blueberry Rustic Tarts
Strawberry Blueberry Rustic Tarts! Individual dairy free tarts that are ideal to make during the summer months when strawberries and blueberries are at their peak. They are completely fuss-free and are delicious on their own, or paired with a scoop (or two) of coconut milk ice cream or a light dusting of powdered sugar!
Author:
Peach and the Cobbler
Ingredients
2 cups all purpose flour, plus more for dusting
¼ cup granulated sugar
½ teaspoon baking powder
½ teaspoon salt
8 tablespoons coconut oil
½ cup plus 2 tablespoons unsweetened plain coconut milk yogurt
1 cup halved strawberries, washed and stems removed
1 cup blueberries, washed
1 ½ teaspoons cornstarch
4 ½ teaspoons sugar
1 egg
1 tablespoon water
Instructions
Make the dough by combining 2 cups of all purpose flour with ¼ cup granulated sugar, ½ teaspoon baking powder, and ½ teaspoon salt into a food processor. Pulse to combine. Note: if you don't have a food processor, just add ingredients to a medium sized mixing bowl and whisk together with a fork.
Add 8 tablespoons of coconut oil to the food processor and pulse until just combined. The mixture should resemble coarse crumbs. If using a mixing bowl, cut the coconut oil into the flour mixture with a pastry cutter or fork.
Next, add ½ cup plus 2 tablespoons unsweetened plain coconut milk yogurt and pulse 6-8 times, or until dough starts to form into a ball. If using a mixing bowl, use a spoon to combine until the ingredients stick together and a ball forms.
Place the dough onto a piece of plastic wrap, flatten into a circular disk and wrap the plastic around the dough. Chill in the fridge for 30 minutes-1 hour or overnight.
Preheat oven to 350 degrees.
Take the dough out of the fridge to soften for ~20-30 minutes.
In the meantime, halve 1 cup strawberries (or quarter them if they are large) and add to a small mixing bowl. Add 1 cup blueberries to the bowl and then sprinkle the berries with 1 ½ teaspoons cornstarch and 4 ½ teaspoons sugar. Mix to combine and set aside.
Line a baking sheet with parchment paper.
Once the dough has softened, divide into 4 equal pieces and lightly roll each into a ball. Dust cutting board or counter with some flour and use a rolling pin to flatten each ball until about 1 cm thick.
Add ½ cup of the fruit mixture to the center of each tart. Fold the edges of the dough into the center by overlapping the sides, being sure to leave 2-3 inches of filling showing in the center.
Make egg wash by whisking together 1 egg and 1 tablespoon of water in a small bowl. Using a pastry brush, lightly brush egg wash over the dough of each tart. Note: If the folds of the dough aren't holding together, use the egg wash and brush a little under each fold to help adhere to the dough.
Bake for 30-40 minutes or until tops are golden brown and the filling is bubbly.
Let cool at least 10-15 minutes and then serve them on their own, with a light dusting of powdered sugar, or a scoop or two of coconut milk ice cream. Best when served fresh, but leftovers will keep one-two days covered in the fridge. Just be sure to pull them out of the fridge for ~15 min to warm to room temp. Enjoy!