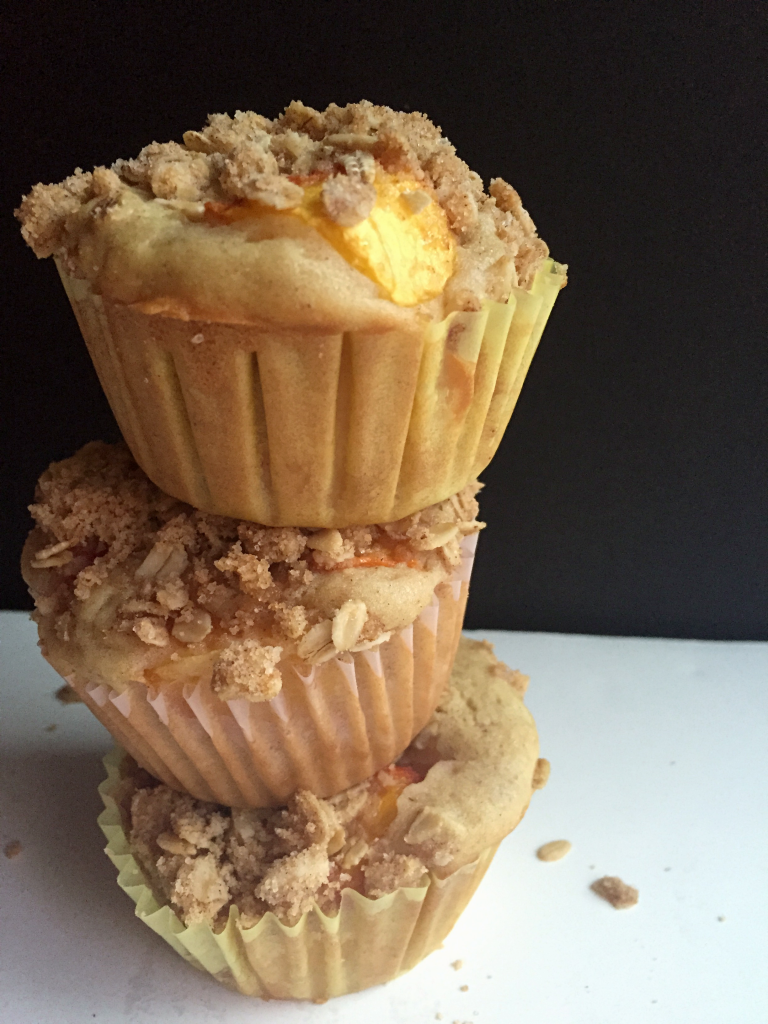 I know what you must be thinking. Given the name (Peach and the Cobbler), Janel must HAVE to post something involving peaches + some version of a cobbler at some point. Well, here's the first of many versions I plan to post, of one of my absolute favorite flavor combinations: peaches enveloped in/around a perfectly spiced cinnamony cake.
There's something magical that happens when you put peaches and cinnamon together. I'm not sure what it is, but the peaches get more peachy and vibrant and it just tastes so RIGHT. And this holds true for pretty much any baked good involving peaches – peach pie, peach crisp, peach jam, etc. When in doubt, add a little cinnamon.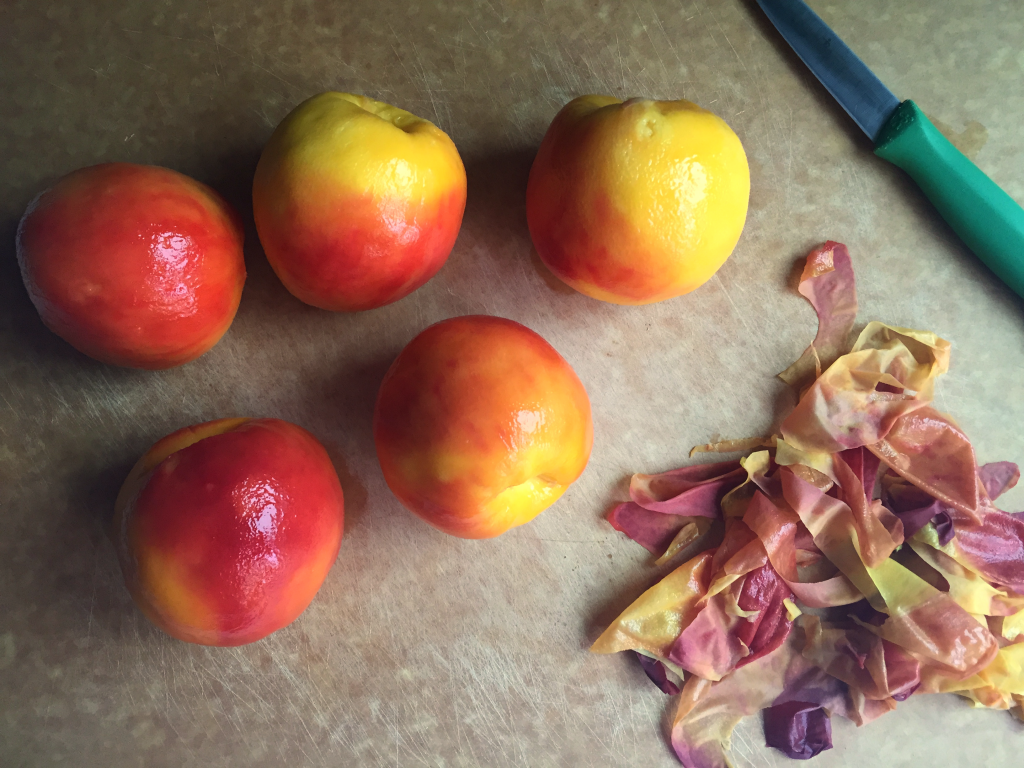 I always get excited when August rolls around, because I know that peach season is almost here! I usually try to take a trip home to Michigan to help my parents harvest the peaches from our orchard (and gorge myself on as many peaches as I can, ahem), but the last couple of cold winters have unfortunately killed off the majority of our peach trees.
They're planning to replant the trees next Spring, so I'm hopeful that we'll have plenty of peaches in a year or two. Fingers crossed!
In the meantime, there are plenty of farmers market peaches to be had!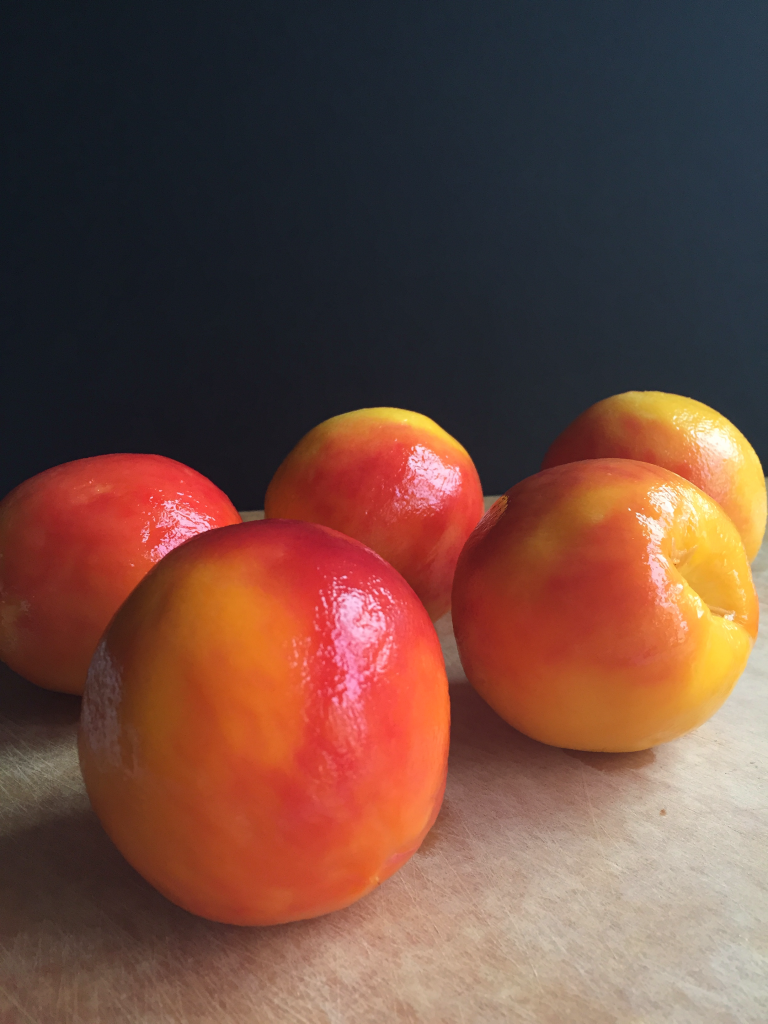 Something you'll notice about peeling peaches is that it's pretty similar to peeling hard boiled eggs. With one peach the peel will come off right away, and another peach you'll be using your paring knife for 20 minutes trying not to butcher the peach to smithereens!
Don't worry, I share in the peach peeling struggle too! What I find that helps is starting with ripe peaches, as they are less likely to want to stick to their skin. If you're using peaches that aren't quite ripe yet and you're having a hard time getting the peel off, try blanching them for 30 seconds longer. That usually does the trick.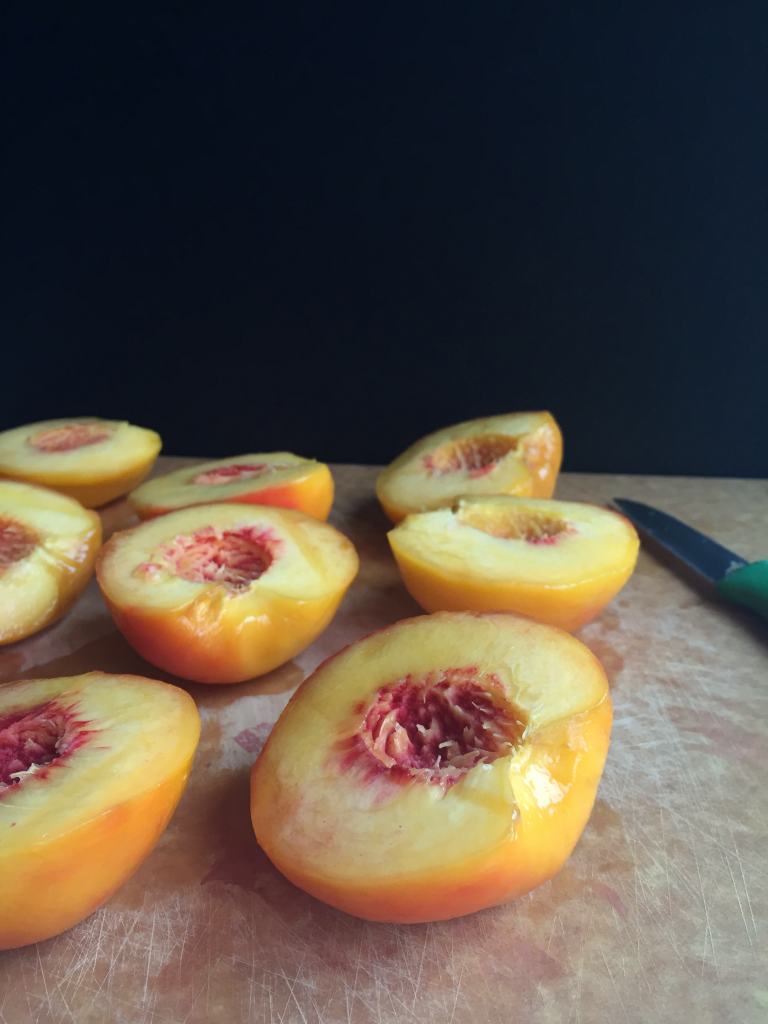 And when you go to pit your peaches, make one slice all around the peach and lightly twist the peach to release it from the pit. If there's resistance when you start twisting, the peach might not be completely ripe yet and you may need to slice the peach off the pit instead of twisting.
The main thing you want to avoid is squishing your peach, and that may vary from peach to peach.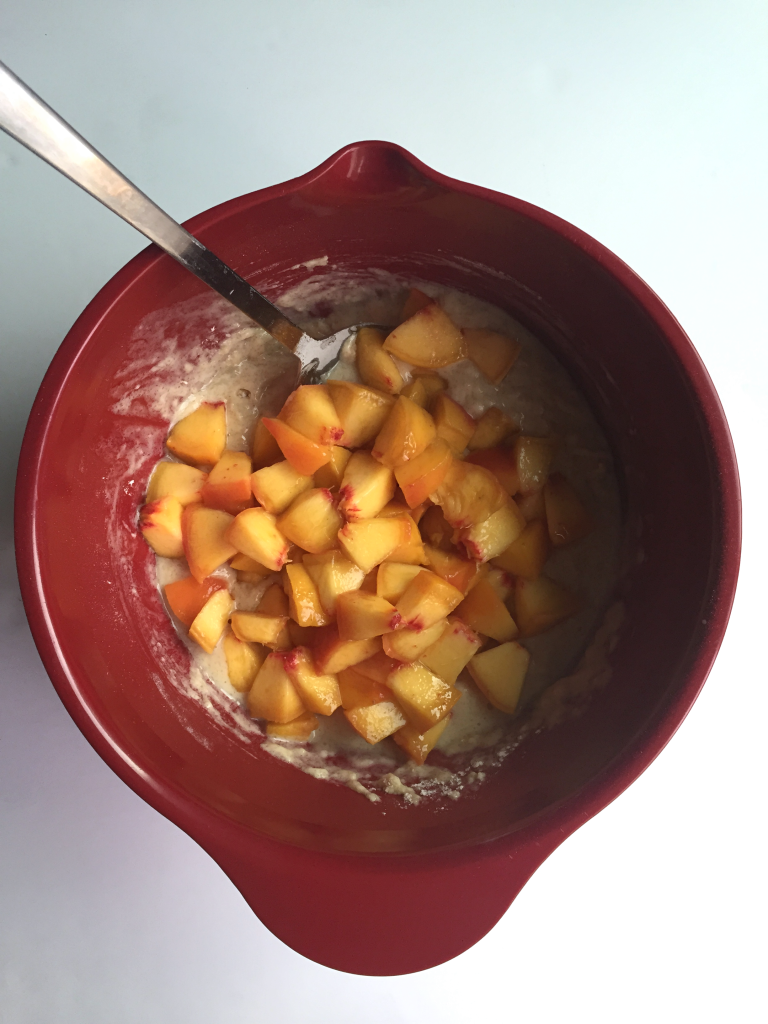 Whenever I'm making a muffin, the one thing I'm constantly reminding myself is not to overmix the batter. Overmixed batter = tough, flattened muffins. And no one wants a tough flattened muffin, am I right?
To avoid this, you want to mix the batter until barely combined, and then fold whatever fruit you're working with into the batter. There may be a few flecks of unmixed flour with this method, but I promise you that is normal and your muffin will bake up perfectly.
Trust me on this one.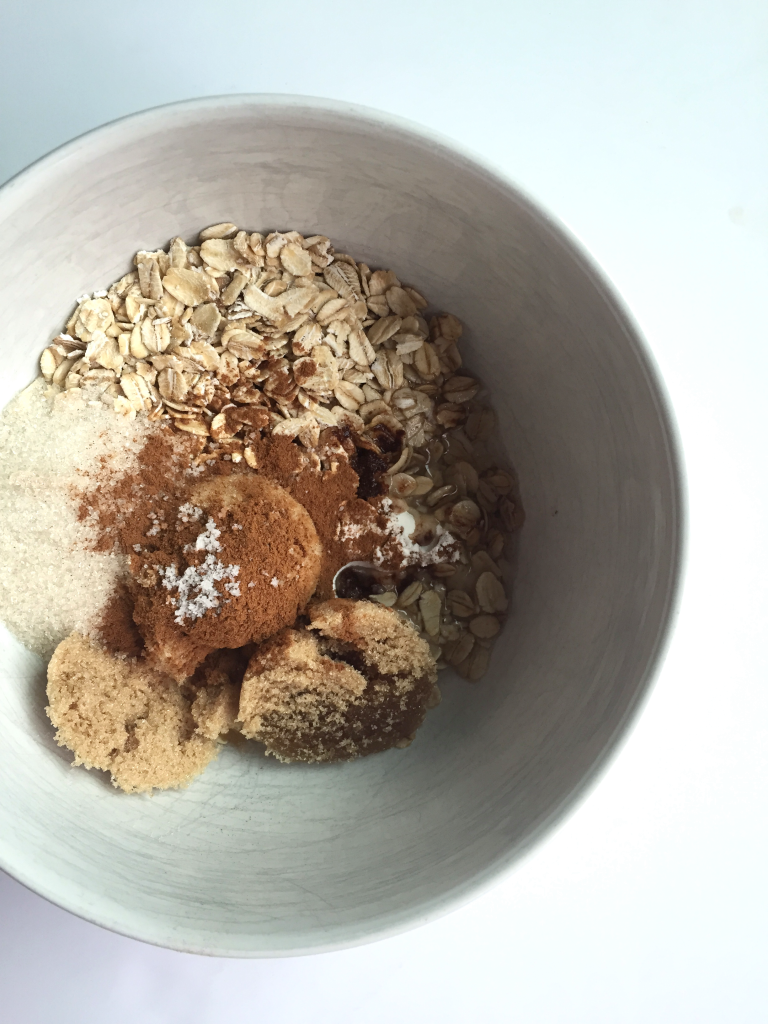 Let me tell you a little something about this streusel. The last time I made these muffins, it somehow tasted like an elephant ear. As in, the ones you get from the fair – doughy goodness swathed in cinnamon sugar. My mouth is drooling just thinking about it.
That's something I love about cooking. You can cook all your life, make a recipe over and over again, and somehow still surprise yourself.
It's the little things in life.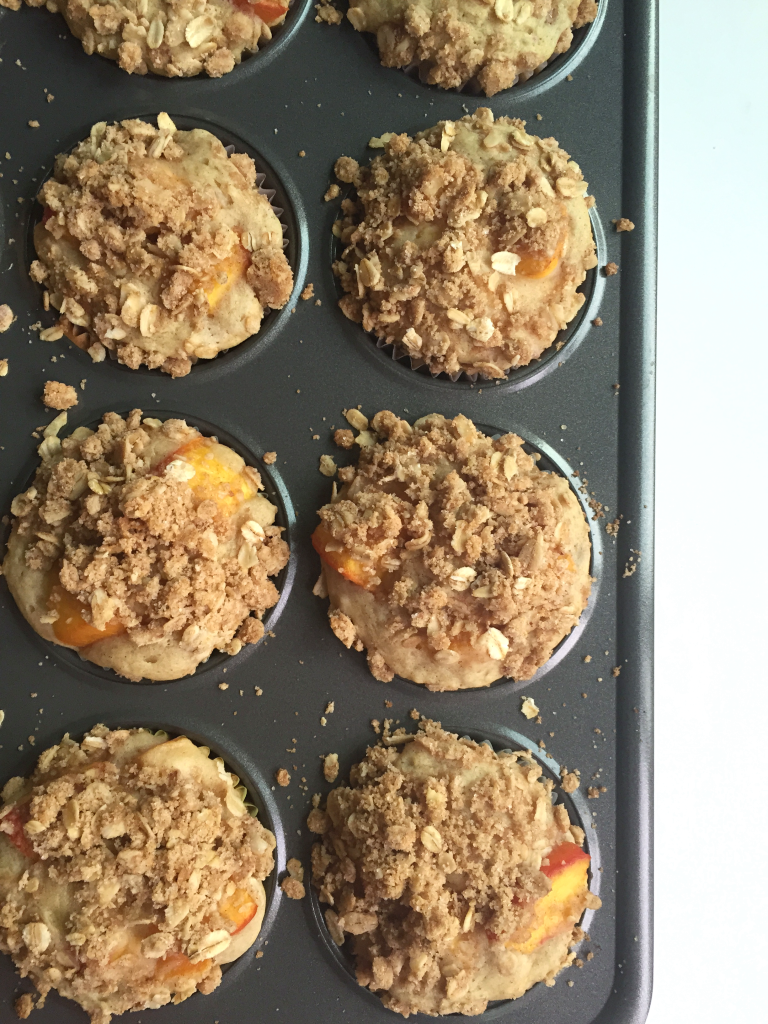 And when these little babies bake up, the oaty streusel gets golden and crispy, while the middle stays perfectly moist.
In fact, something I just realized is that these muffins are the best of both worlds. Peach cobbler meets peach crisp all in one neat little muffin package!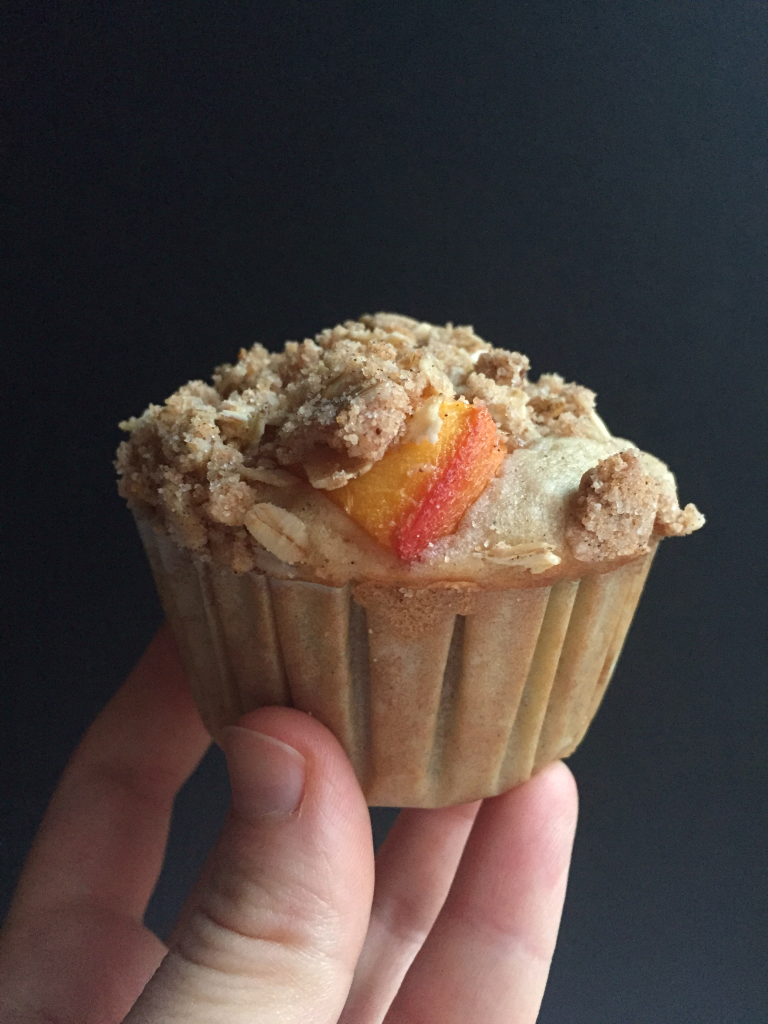 These muffins have some seriously peachy flavor and are a great way to use up fresh peaches!
Not only do they come together in an hour or less, but they're also a perfect on-the-go quick breakfast, snack, or dessert.
If you try this recipe, let me know! Leave a comment, and be sure to take a picture and tag it #peachandthecobbler on Instagram so I can see how it went!
Enjoy!
Love,
Peach and the Cobbler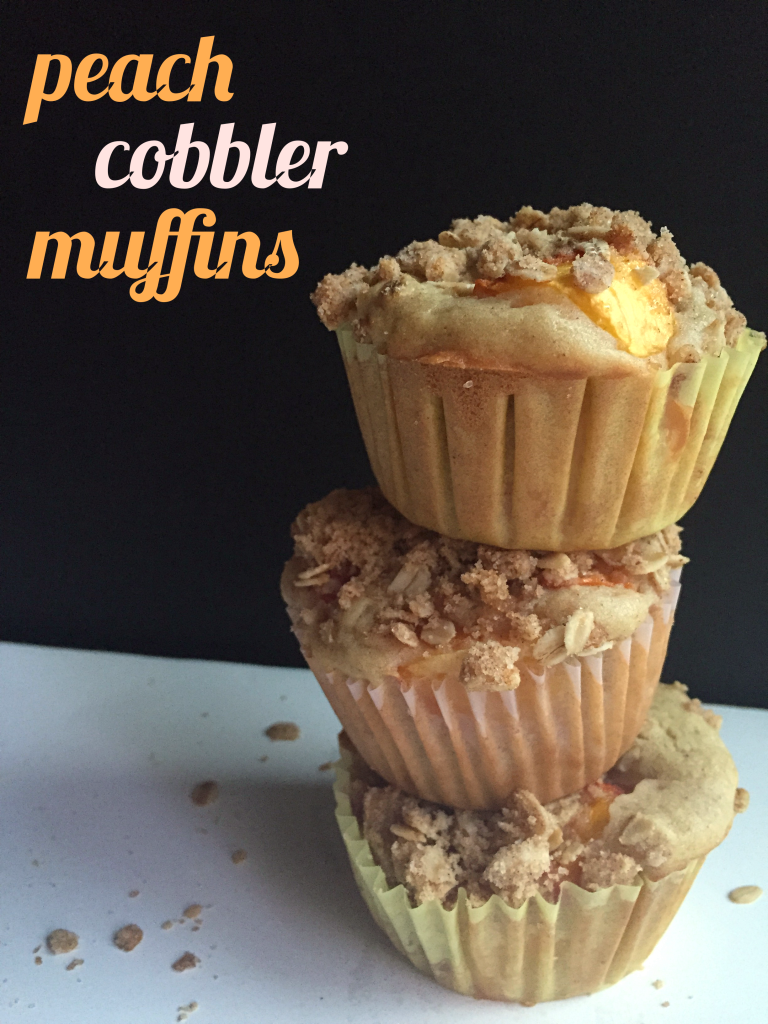 Peach Cobbler Muffins
Peach Cobbler Muffins! Dairy free peach muffins featuring a cinnamon spiced oat streusel topping and in season peaches. A perfect on-the-go summer muffin that makes a great quick breakfast, snack, or dessert and takes an hour or less to put together!
Author:
Peach and the Cobbler
Recipe type:
Breakfast, Snack, Dessert
Ingredients
Muffin:
5 tablespoons coconut oil, melted
⅔ cup coconut or almond milk, room temp
1 large egg, room temp
½ teaspoon vanilla extract
1 ½ cups all-purpose flour
½ cup granulated sugar
2 teaspoons baking powder
¼ teaspoon baking soda
½ teaspoon ground cinnamon
¼ teaspoon salt
2 cups peaches, diced
Streusel:
¼ cup all purpose flour
⅓ cup rolled oats
1 tablespoon granulated sugar
3 tablespoons light or dark brown sugar
½ teaspoon ground cinnamon
Pinch of salt
2 tablespoons coconut oil
Instructions
Preheat oven to 350 degrees and line or grease 12 regular size muffin tins.
Blanch the peaches by filling a medium size saucepan with water and bring to a boil. Once boiling, reduce heat to medium/high and blanch peaches for ~1 min. Work in 2-3 batches, blanching 2-3 peaches at a time, so you don't overcrowd the pan. Remove peaches with a slotted spoon and let cool for ~5 minutes, or until cool enough to handle.
Peel the peaches either using a paring knife, or using your hands depending on how easy the peel is coming off. Remove pits and dice into bite size pieces, or approximately ½ inch. Set aside.
Make streusel by combining ¼ cup flour, ⅓ cup rolled oats, 1 tablespoon granulated sugar, 3 tablespoons light or dark brown sugar, ½ teaspoon ground cinnamon, pinch of salt, and 2 tablespoons coconut oil in a small bowl. Mix until coconut oil is incorporated fully, and pea sized clumps form. Set aside.
Make muffin batter by combining 5 tablespoons coconut oil (melted), ⅔ cup coconut or almond milk (warmed to room temp), 1 large egg (warmed to room temp), and ½ teaspoon vanilla extract in a small bowl. Set aside.
In a medium bowl, combine 1 ½ cups all-purpose flour, ½ cup granulated sugar, 2 teaspoons baking powder, ¼ teaspoon baking soda, ½ teaspoon ground cinnamon, and ¼ teaspoon salt. Whisk together.
Add the coconut oil and coconut milk mixture to the flour mixture and mix until just combined. Don't overmix.
Fold in 1 ½ cups peaches until just combined. Set aside remaining ½ cup of peaches to place on the top of each muffin.
Fill each muffin tin with ¼ cup of batter, and place 2-3 peach pieces on each muffin. Then top each muffin with 1 tablespoon streusel.
Bake at 350 degrees for 15-20 minutes, or until a toothpick comes out clean. Let cool in muffin tins for ~10 minutes, then remove and let cool completely on a cooling rack.
Enjoy!