I cracked the code on Homemade Sunflower Seed Butter and I'm never looking back. Peanut butter who? Exactly.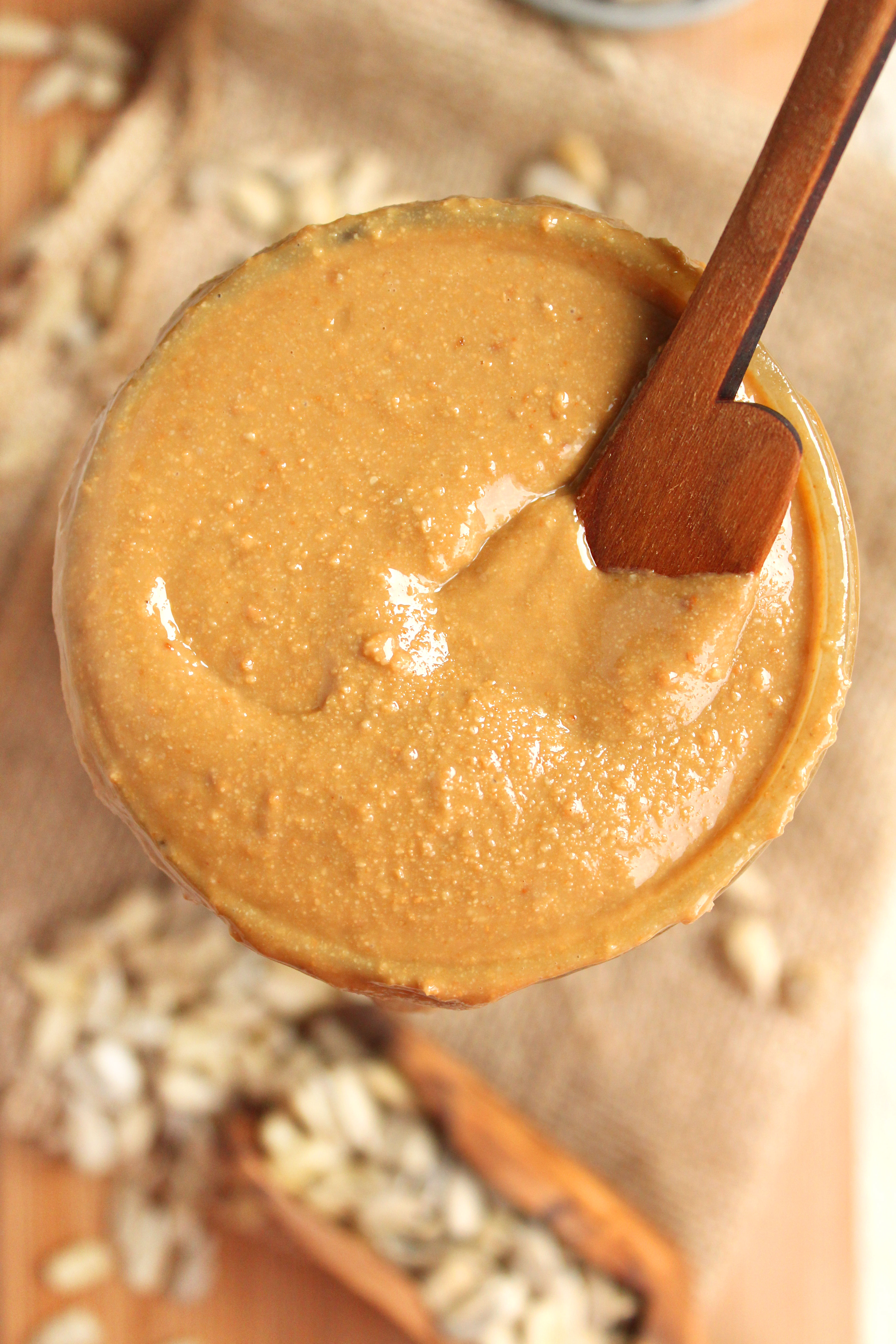 Like most people in America, I grew up eating gobs and gobs of peanut butter. Peanut butter sammichs, peanut butter cookies, peanut butter on a spoon…you get the jist. Peanut butter was like it's own food group to me. Well, at least it was up until my food allergies started kicking in and had to eliminate it from my diet. Womp Womp.
But then I discovered sunflower seed butter! Pretty much the next best thing to nut butters in my humble opinion. I started buying it, but soon realized I could probably make it at home and have it be just as good (or better), AND it could be much more easy on the wallet.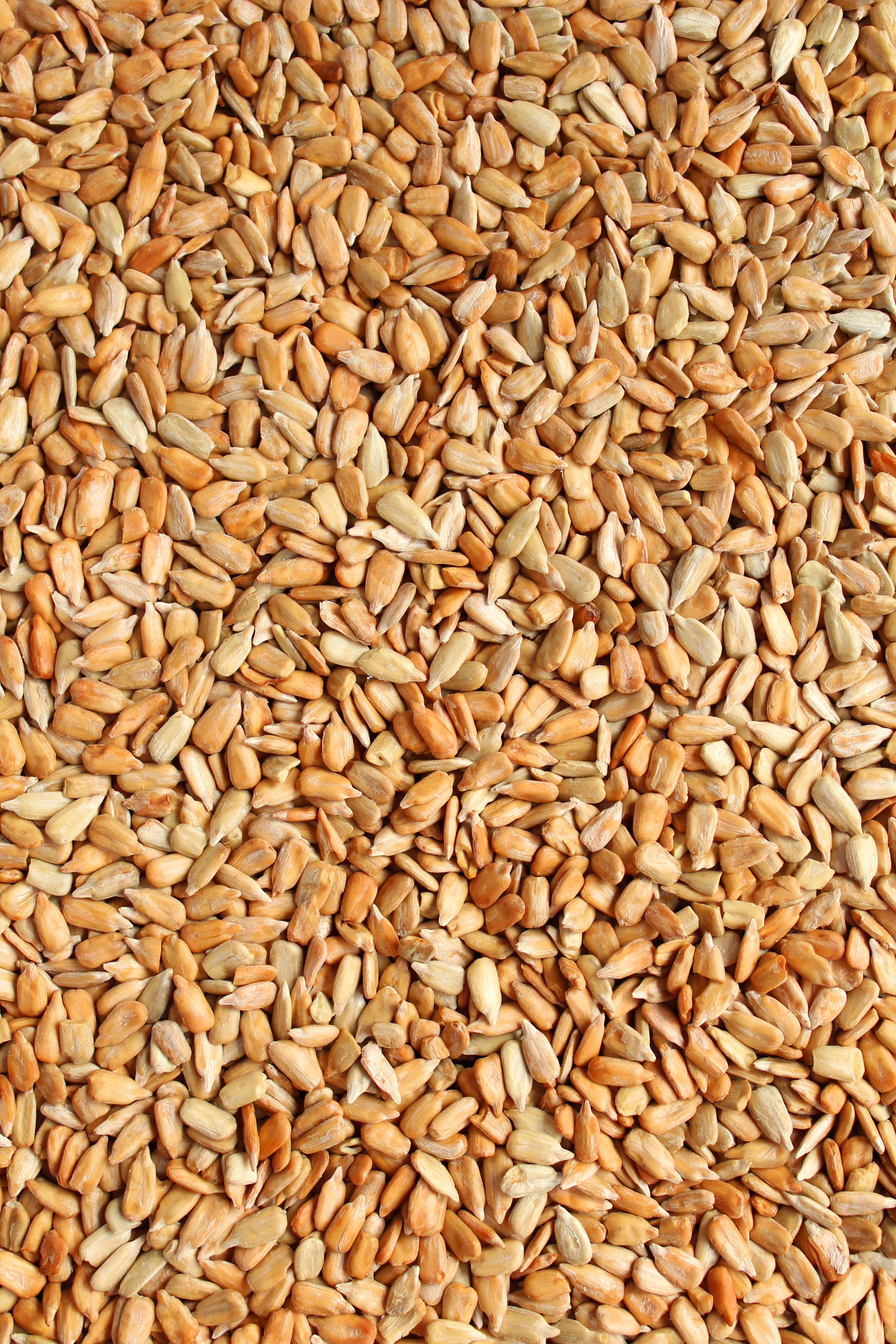 You guys have probably noticed how obsessed I've become with this stuff, as I've been using it in basically all my recipes lately (The Best Gluten Free Vegan Brownies, Vegan No Bake Brownie Bites, Chewy Chocolate Dipped Sunbutter Cookies).
It adds creaminess that you would otherwise use peanut butter for, and it only has 2 ingredients! That's one of the best things about it. Many brands at grocery stores contain sugar or salt, but this way, you can easily control what goes in it! That's not to say you can't add a bit of either of those, but I find that the toasted seeds + olive oil is perfectly scrumptious on it's own.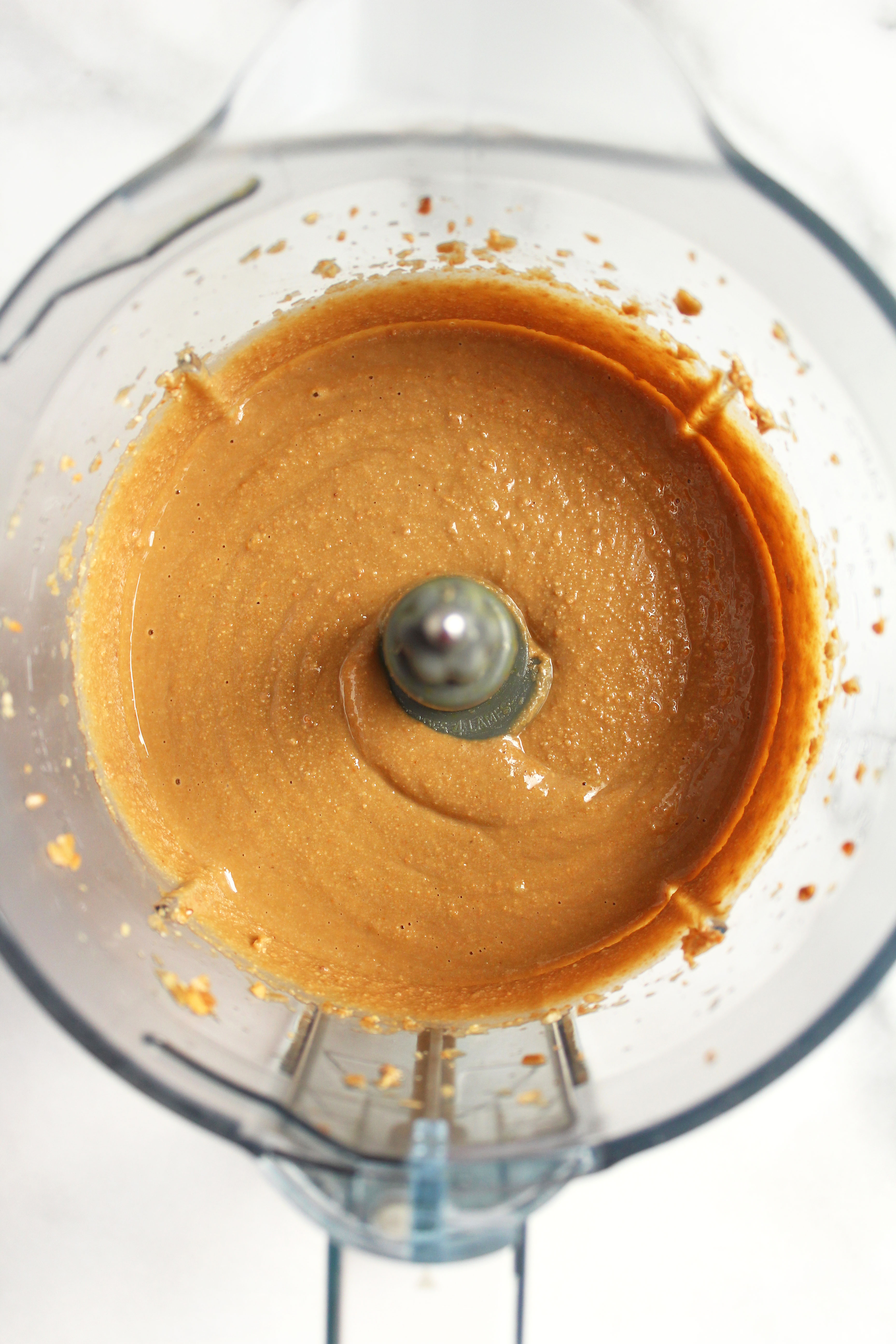 Not only that but it's SO easy to make!
Simply roast some sunflower seeds, let cool, blitz in a food processor or high speed blender with some olive oil, and badda bing badda boom you have yourself some seriously delicious sunflower seed butter!
I mean, are you SEEING that creamy dreamy factor? GUH.
5 reasons I love this Homemade Sunflower Seed Butter:
2-ingredients

Super creamy

Surprisingly "nutty"

Spreadable, even when chilled/cold

Vegan, refined sugar free, and nut free!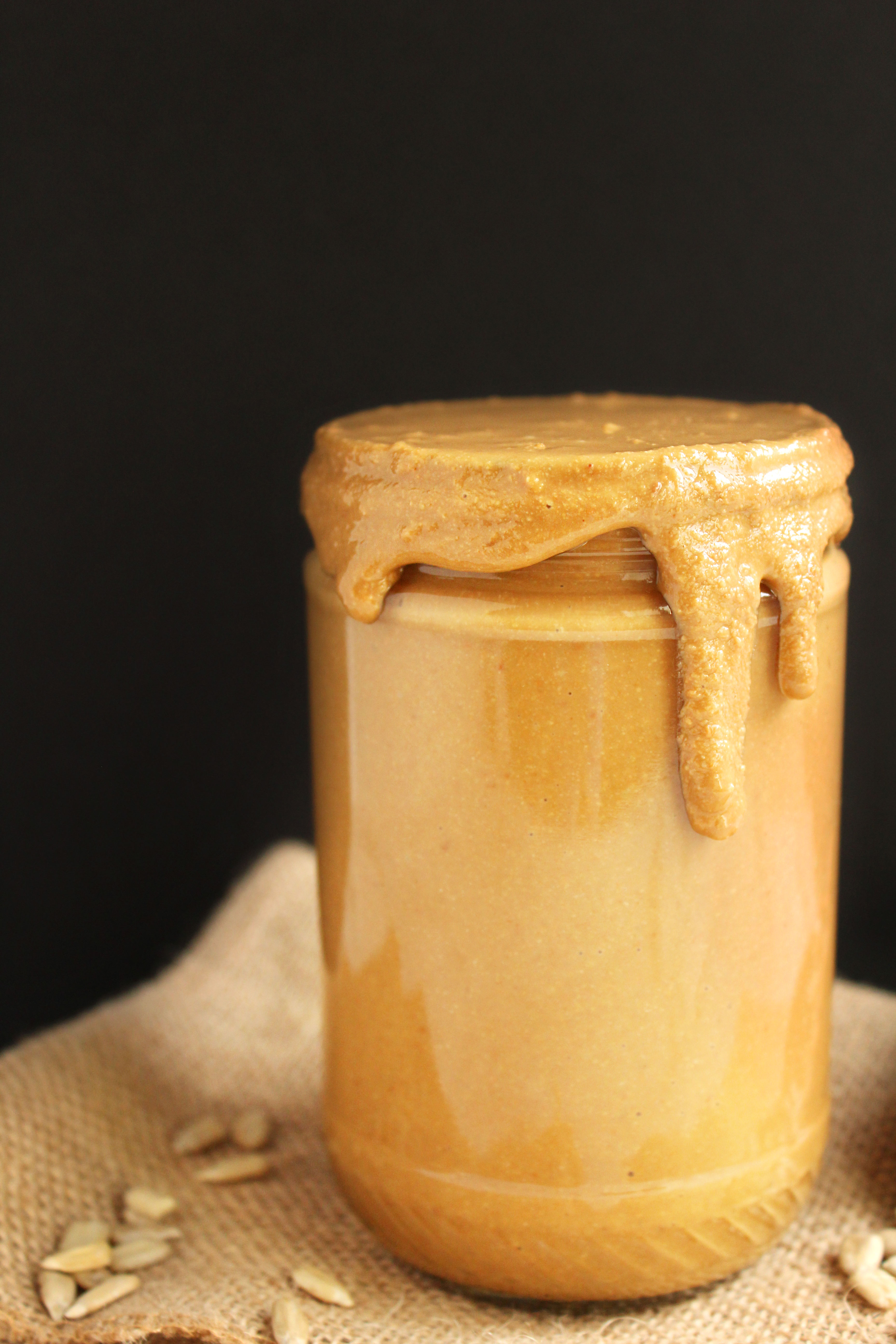 For anyone with a nut allergy, or anyone looking to switch up their nut/seed butta game, this Homemade Sunflower Seed Butter is calling your name!
Eat it on toast, in smoothies, or just on a spoon! That's how I like it!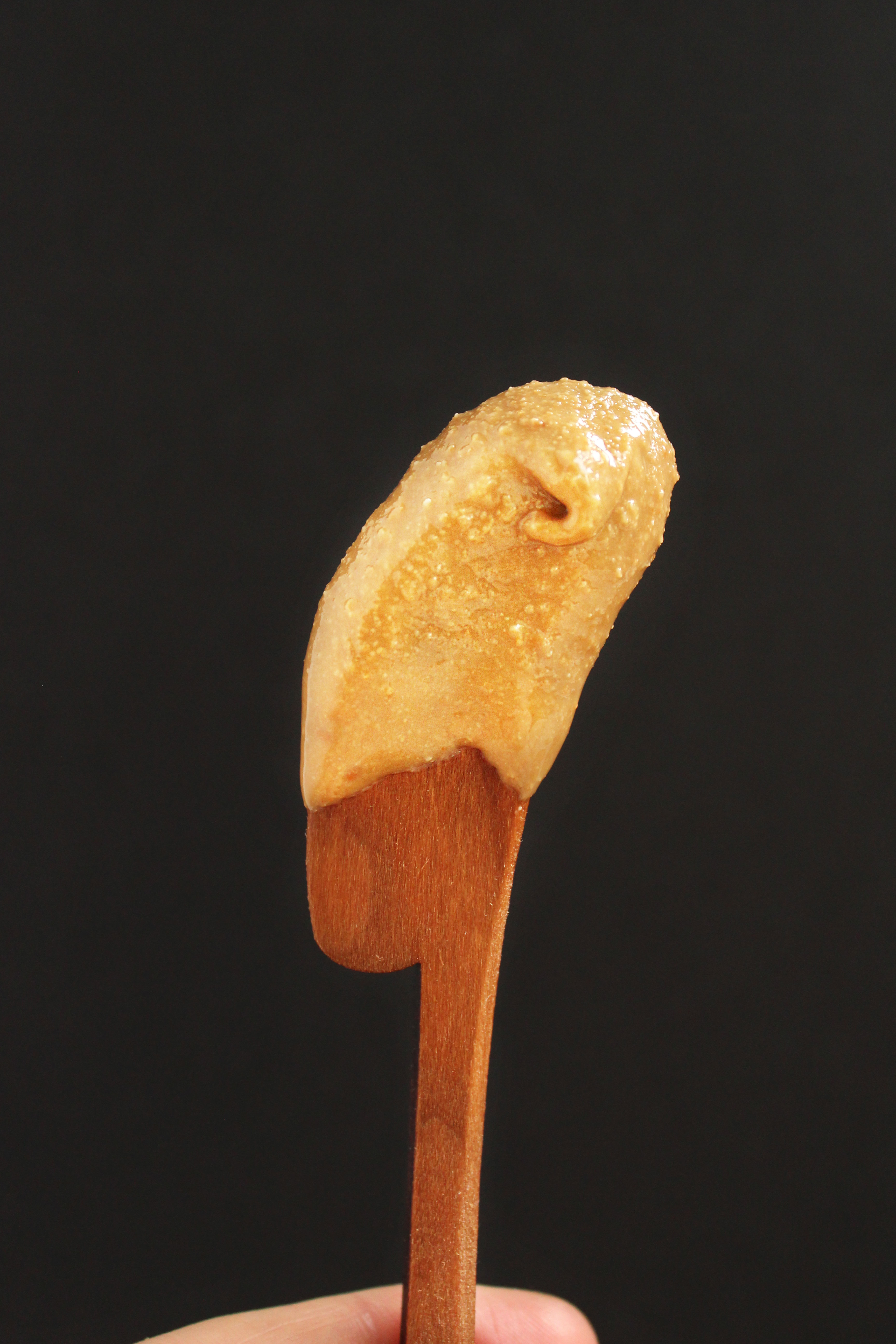 This stuff is magic, friends. Liquid gold MAGIC.
Enjoy!
Love,
Peach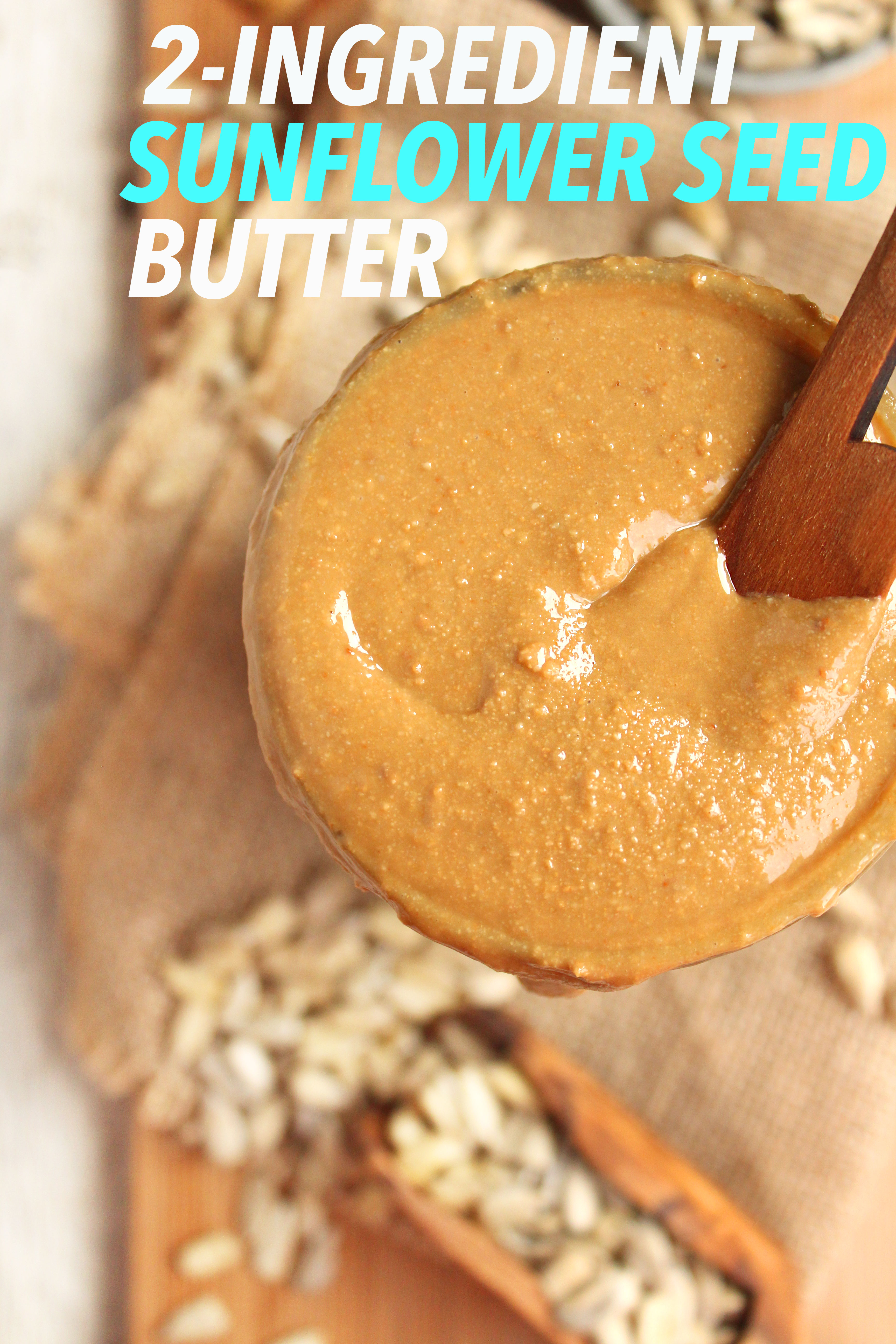 Homemade Sunflower Seed Butter
Homemade Sunflower Seed Butter! An amazing alternative to peanut butter that tastes surprisingly nutty, SUPER creamy, and has only 2 ingredients! Perfect on top of toast, in smoothies, or just on a spoon.
Author:
Peach and the Cobbler
Cuisine:
Vegan, Gluten Free, Refined Sugar Free, Nut free
Ingredients
16 oz (2 cups) raw or roasted unsalted sunflower seeds
¼ - ½ cup light flavored olive oil (or other light flavored oil of choice)
¼ teaspoon sea salt (optional)
Instructions
If using raw sunflower seeds, preheat oven to 350 degrees. If using pre-roasted sunflower seeds, move on to step 4.
Spread 16 oz sunflower seeds on a sheet tray and roast for about 10 minutes, or until fragrant and golden. Stir about halfway through to ensure they don't burn.
Remove sunflower seeds from oven and cool completely.
Dump sunflower seeds into a food processor along with ¼ cup light flavored olive oil and blitz until completely smooth, about 5 minutes. Add ¼ cup more olive oil if the mixture is too thick/not moving. You may need to go in and scrape the sides a few times to ensure all pieces are incorporated.
Add sea salt, if using. Blitz until incorporated.
Pour sunflower seed butter into a container and store in the fridge for 2-3 weeks.
Enjoy!
Notes
*Depending on the strength/power of your food processor, you may be able to add more/less olive oil. Start with ¼ cup and work your way up until the butter is blending easily in the food processor.
*Prep time does not include roasting time if using raw sunflower seeds.
*I'd LOVE to hear how this recipe worked out for you, so please leave a comment below and be sure to take a picture and tag it #peachandthecobbler on Instagram! XOXO
Want more deliciousness? Of course you do! Follow along on all P&C adventures on:
Instagram | Facebook | Pinterest | Foodgawker